While most of our funds are either SGD-hedged or SGD-denominated, we do offer investment options for AUD / CHF / EUR / GBP / USD on Fund Smart.
If you wish to invest with a foreign currency, please take note of the following
All the underlying funds of each goal must be of the same currency

When modifying goal, you can only change the allocation of the existing funds, or add or remove funds of the same currency.

When you create a goal in a new foreign currency, a corresponding foreign currency cash account will be created. If you wish to deposit cash in the foreign currency,

please ensure you have selected the correct currency when viewing deposit instructions as each currency has a different VAN

. If you deposit into a VAN of a different currency, your deposit will be converted to the currency.

If you wish to deposit SGD and make a conversion to a foreign currency, please refer to the FAQ here.
When making a withdrawal, please ensure that the linked bank account for withdrawal can accept the foreign currency. If you need to change your linked bank account, please contact us support@endowus.com
How do I make a foreign currency investment?
Once you create an investment goal that comprises a foreign currency denominated fund, a broker account of the same currency is created on your Endowus account. You will now be able to transfer said currency into your Endowus account for investing.
You may create a foreign currency goal through the following steps:
Login to your Endowus account and select "Add Goal"
Select the "Select your own fund" option and determine the goal type and funding source
Select the appropriate currency through the currency filter and add the foreign currency denominated fund to the goal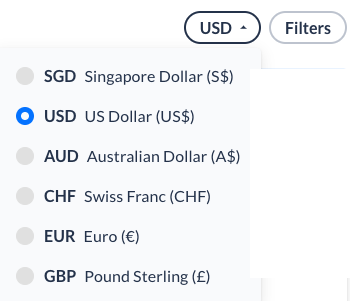 Once the selection is confirmed via SMS, you will be able to transfer the appropriate currency into your Endowus account to start investing in your new goal!
You'll be able to find instructions on how to fund your new foreign currency investment by logging into your Endowus account > Select "Invest| Redeem| Transfer" > Deposit Cash.