The Endowus Fee Structure below only applies to Alternative Investments (available only to Accredited Investors) and is effective from 1 January 2023.
Alternative Investments Pricing Schedule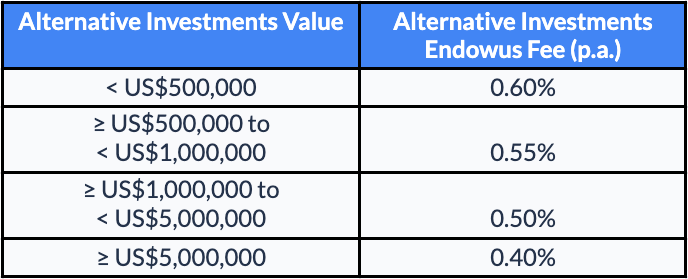 The pricing schedule above excludes QuantEdge Global Fund as the fees for this fund are directly offset against the Cashback received from the Fund Manager.
When will I be charged the Alternative Investments Endowus Fee?
The Alternative Investments Endowus Fee will be charged on a quarterly basis.
From 1 April 2023, Endowus will begin charging GST on the Endowus Fees. Fees that are due before 1 April 2023 will not be charged GST.
You will also receive an email with an estimate of the total amount of Endowus fees to be charged for the quarter closer to each fee debit date.
For USD Cash investments, kindly note that fees will be charged in the following order:
If you have an available USD cash balance in your Endowus account, we will use it to pay for the Endowus Fee.
Deposit instructions:
- Web: Click here, or Log in to the Endowus web application > Invest | Redeem | Transfer > Deposit Cash > Select "USD"
- Mobile: Log in to the Endowus mobile application > Transfers > Deposit Cash > Select "USD"
If you have SGD cash balance, you may make a conversion to USD using your Endowus mobile app.
Please note: Endowus Fee Credits, which are in SGD, cannot be used to offset Endowus Fees for foreign currency investments. Please refer to our FAQ for more detailed instructions.